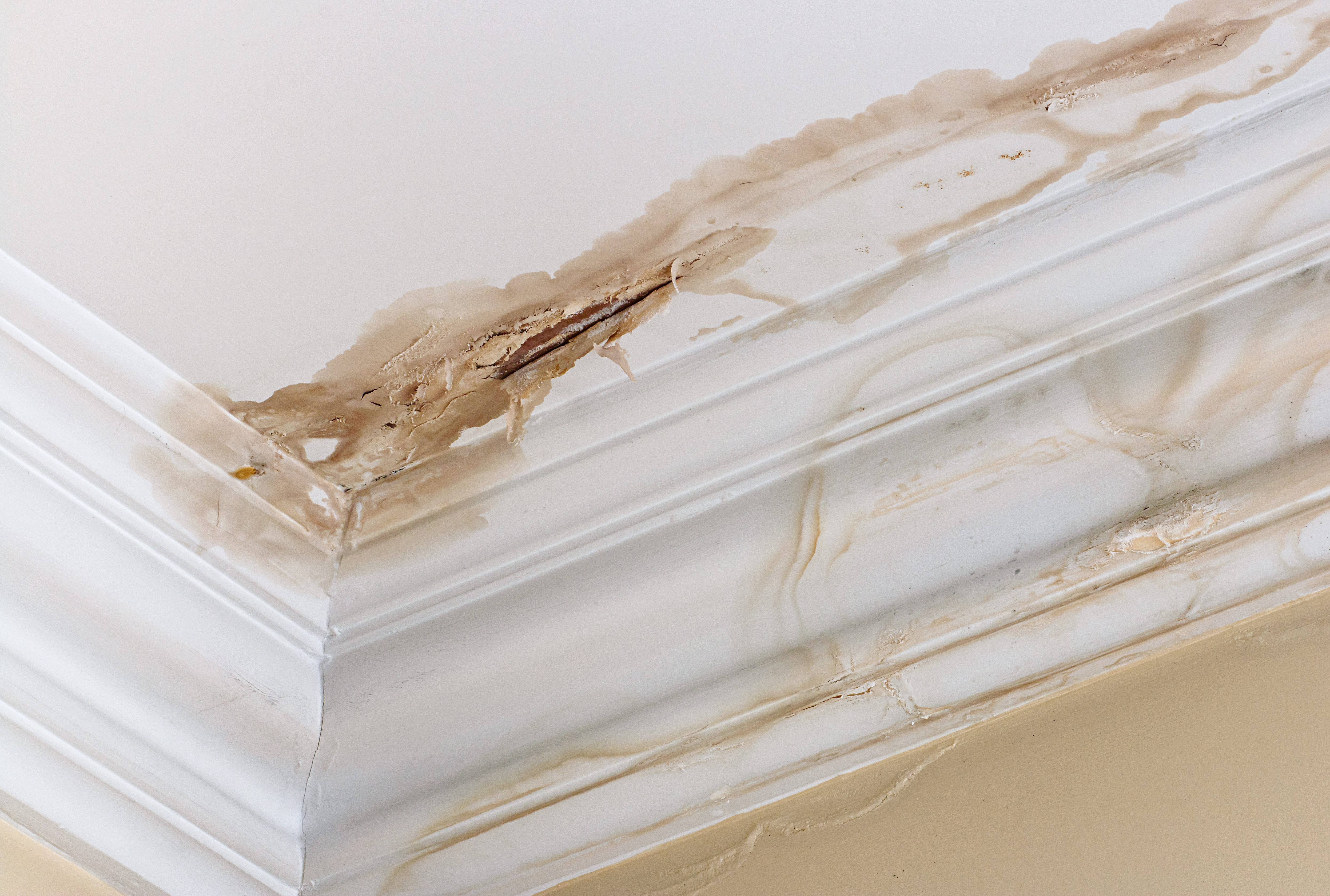 Just recently, we had a customer experience something horrible. The customer came home from a long vacation, packed things away, and were hoping to kick back for a little. As they were relaxing in the family room, they noticed the ceiling looked a little damp. The husband went abruptly upstairs to see what was going on, only to notice the bathroom above the family room had a stained damp ceiling as well. You could imagine how this freaked them out, thinking that there must be a leak in the roof.
As they were waiting for a roofing company to come out to resolve the situation, the ceiling in the bathroom and the family room ceiling beneath it, got worse and drywall started to get soft. Their son used the attic access to get to that point where the leak was coming from. What he found was their A/C system had been leaking right above the bathroom and continued down the drywall stopping at the family room ceiling.
He then put a towel to soak up the water and then put a bowl to temporary stop water from leaking onto the drywall and making it worse. As they found the problem, and got it fixed, they thought to themselves, how can we proactively stop any further leaks from happening in the future? Luckily for them we had a solution and showed them how to catch a leak.
The solution was to install Wireless Smart Water Sensors near their A/C system in attic. Wireless Smart Water Sensors are able to sense water that has risen above 1mm in height. The bottom of the sensor has two contacts that send a signal to your alarm system due to water detection. With Automation Technology, they can also be set up to send a signal directly to their phone via the app.  They can be installed under anything that may leak such as sinks, toilets, or any other area that utilizes your water supply.
This customer wasn't going to gamble with this scenario ever again. They installed Wireless Smart Water Sensors in every potential leak area of their home. In addition to the Wireless Smart Water Sensors, they also installed a device on their main water valve. They can now shut the entire water system down via their smart phone should a leak occur again, allowing them to prevent further damage and costly repairs.
It is important to keep your mind open to circumstances such as this happening in your home, especially if you are frequently away. This customer never thought it would happen to them and so do a lot of people. These solutions can be the difference in saving your home from flood, preventing high costs to repair damage, and not having to purchase a raft to get to room to room. Be proactive, not reactive.